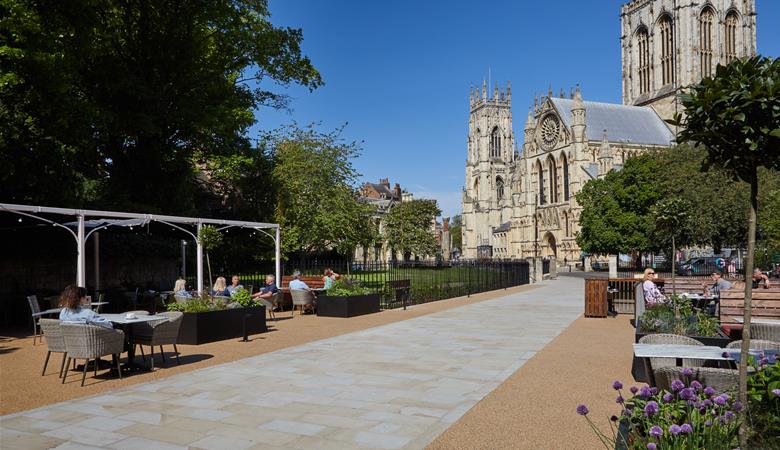 Arguably the restaurant and bar with the best views of York Minster!
Monday to Saturday 9am-11pm Sunday 9am-10pm
The York Minster School was established in 1903 in a building that was initially built for St Peter's School within the Minster's Precinct in 1833.
Accessible-to-all, York Minster Refectory has a daytime takeaway element and evening dining along with a mixture of smaller function, lounge and private dining options.
The new restaurant lets the seasons write its menus, based on Yorkshire's brilliant pantry of food and supplied by a full array of White Rose flag producers.
Run day to day by Joshua Brimmell, executive head chef of The Star Inn The City, he and Andrew oversee the development of the menus and all hospitality functions.
Their approach to the food and cooking is very much old-fashioned British-style favourites with a new take through Anglicised French classics.
Typical dishes on the menu are Carpaccio of Yorkshire venison with garden beetroots, rocket pesto and Spenwood shavings; Braised oxtail in a beer broth with button mushroom, pearl onion, bacon and smoked potato; or Granny's tipsy sherry trifle.
In other words, everything that is good about the food, drink, people and places of York and Yorkshire!
The grade 2 listed former York Minster School built in the 1830's with unique views of York Minster. Now a brasserie style restaurant serving up all day refreshments and modern British dishes using local produce and suppliers from in and around Yorkshire.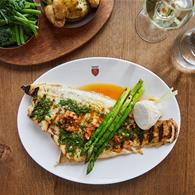 "I am lucky to have worked and trained in France on classical dishes, which is the foundation of all my cooking; so the food is very much old fashioned British-style favourites with a new take through Anglicised French classics; they are classics for a reason - they just work - which is why they are popular."