Contemporary British cooking with an international influence. Snacks and small plates.
Weds - Sat: 12:00 - 14:00 and 17:30 - 22:00 Sun: 12:00 - 16:00
A bespoke dining room with an open concept kitchen designed specifically to create a unique experience, in which to enjoy uncomplicated yet refined dishes in a comfortable and informal manner.
Chef-owner Neil Bentinck opened his inaugural restaurant in the Summer of 2016 in a newly refurbished Grade II listed building, situated just beyond the 'Micklegate Bar', a 12th century gateway into the historic city of York.


At Skosh we serve eclectic food in the form of snacks and small plates allowing you to graze as you go, or if you prefer, being served course by course for a complete dining experience.
Our succinct drinks offerings include our detailed wine list, with all bottles available by the glass, alongside the exclusive wine journal, seasonal cocktails and a varied selection of local and international craft beers.
The only restaurant in York to be awarded a Michelin Bib Gourmand, which we have held since 2018, we are also featured in 'The Good Food Guide' as well as 'Restaurant Magazine' and 'Harden's Top 100'.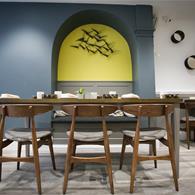 "Using the very best of local and seasonal produce, combined with an eclectic mix of international influences, gives our diners the chance to try new and exciting flavour combinations."