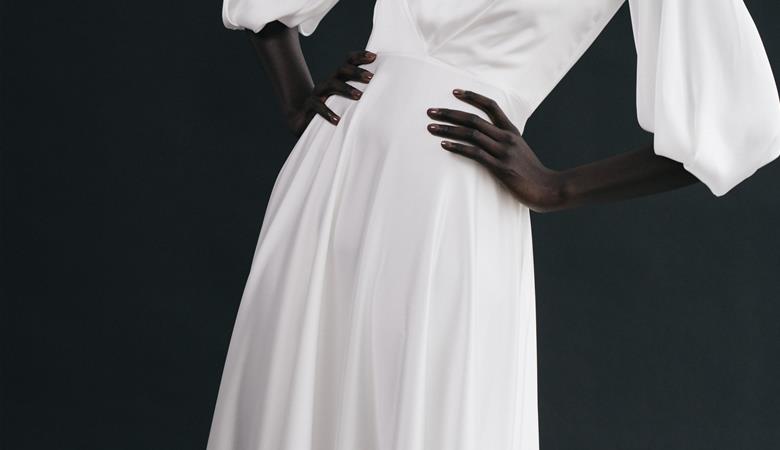 British bridal label. Carefree gowns, Eco-friendly + ethically made.
Wednesday - Saturday, 9am - 5.30pm.
We dress brides from all walks of life and of all shapes and sizes. We are a small-scale British label focusing on thoughtful design and high-end craftsmanship, creating conscious bridalwear for individuals who walk to the beat of their own drum. Our fabrics are gentle to the earth, our dressmaking techniques traditional and refined, our designs a blend of the classic and the avant-garde. We are not fast fashion.
Our gowns are individually made to order by a tiny team of seamstresses in York, England, and we don't have size restrictions on our pieces so each design is available in any size. This small-scale production means we can guarantee the exceptional finish of our dresses. No production lines or faceless factories here; each dress is made from start to finish by one expert artisan who knows your name, wedding date, and who personally takes care of every last detail.
We use sustainable, ethically produced, organic and eco-friendly fabrics, and offer vegan alternatives to silk. For us sustainability is a lifestyle, not a gimmick; we are conscious of everything we do. All our fabric offcuts are donated to crafters, makers, and artists so nothing is wasted, and we package our dresses in biodegradable bags, recycled acid-free tissue paper, and unbleached cardboard boxes. We strive to run our business as ethically as possible in every way.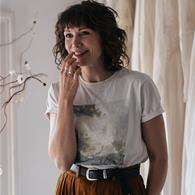 "Hayley Neil is the founder and designer behind Rolling In Roses. Following an epiphany on an uninspiring shopping trip to help find wedding dresses for her sister, Hayley opened her first boutique in York in March 2012. Never happier than when designing or making, Hayley sources the fabrics, sketches the designs, drafts all the patterns, and makes the sample gowns herself in the RIR atelier. A Yorkshire girl born and bred, Hayley is proud to base her design and construction right here in York."