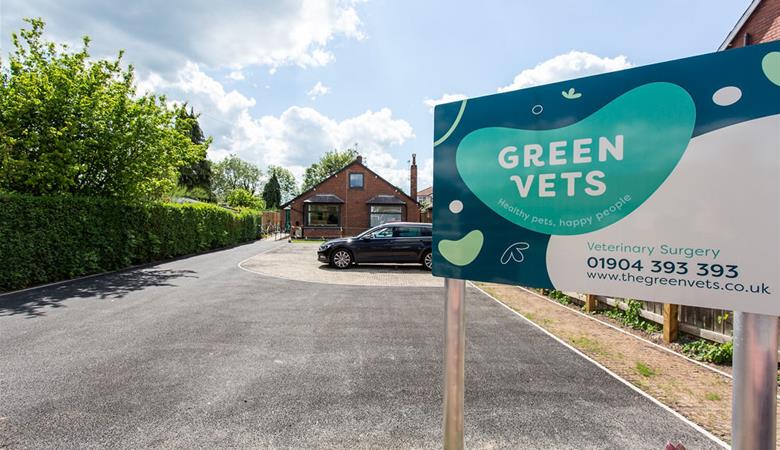 Independent Vets in York with a strong social ethos and green sustainability credentials. We offer excellent veterinary care without the corporate price tag.
Weekdays: 8am - 6pm Saturdays: 9am - 1pm 24 hour on-site emergency service
Green Vets is the first independent veterinary surgery to open in York for over 15 years.
We bring traditional family vet values back to the city, with modern facilities and a wealth of veterinary experience.
Like in many other professions, Veterinary surgeries in the UK are increasingly taken over by corporate businesses resulting in an ever-declining number of independent local practices. In 2018, out all the 15 clinics and branches in the York area, 11 were owned by the same corporate group and 2 clinics were corporate branded joint ventures. There is a planning application for yet another corporate group wanting to enter the York market. Before Green Vets opened in May 2019, there were only 2 independent veterinary businesses left.
Green Vets is bucking this trend by opening a brand new, independent veterinary surgery in Acomb.
Unlike the large corporate-owned clinics, Green Vets is 100% owned by Rob and Anne, a husband and wife team of vets running the clinic. This is a tried and tested formula where we can reinvest profits in the business without the need to redistribute and drain dividends to external shareholders. It also enables us to offer personalised veterinary care. Your pet sees the same vet every time. This has enormous advantages for continuity of care.
With state of the art diagnostic and surgical facilities, on-site intensive-care hospitalisation and ample parking, we offer an outstanding one-stop veterinary care experience.