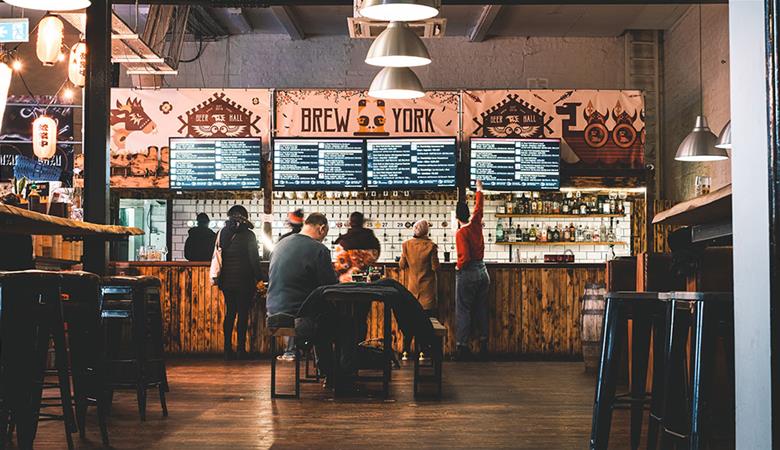 Brewery Taproom and Beer Hall plus Brewer's Yard and a riverside garden.
TAP ROOM HOURS Mon – Tue: Closed Wed – Fri: 17:00 – 23:00 Sat: 12:00 – 23:00 Sun: 12:00 – 21:00 BEER HALL HOURS Mon: Closed Tues – Sat: 12:00 – 23:00 Sun: 12:00 – 21:00
Brew York is an independently owned, multi award-winning brewery founded by Wayne Smith and Lee Grabham in 2016.
Brew York Taproom and Beer Hall is located on bustling Walmgate in York City Centre. It is a leading beer destination, as well as being a community hub and the flagship venue for the award-winning brewery welcoming more than 200,000 people across the year.
A UK beer tourism gem set within the walls of a world renowned mediaeval city, the Walmgate site houses the original brewery where the first ever Brew York beer was brewed in April 2016.
The venue tells the story of Brew York over the years as the original brewery area has been enhanced and developed, creating an 'Aladdin's cave' of unique beer adventures and experiences.
Brew York Walmgate comprises a total of eight interconnected yet separate spaces, each offering something a bit different with one commonality - some of the freshest beer and the widest range of beer styles you'll find anywhere.
A vibrant taproom featuring exposed brick walls and bold murals boasts six cask hand pulls and ten keg taps pouring a range of fresh Brew York beer. The taproom is situated adjacent to the original brewery on the open plan ground floor area, giving visitors the chance to get up-close-and personal with the brewing vessels. Weekly brewery tours also run where our expert in-house tour guide gives an interactive 1-hour talk on the kit and brewing process while bookers sip along tasting four Brew York beers, all included within a modest ticket price.
The promise of some of the freshest local beer you can drink and an insightful brewery tour is not all that's on offer on the ground floor at Brew York, Walmgate, either.
The Hoptail lounge is a dedicated event and private hire space located adjacent to the main taproom area that can accommodate around 50 people. This room is within easy access of the bar and brewery area.
Brewer's Yard is a newly developed outdoor space for 2022. Opening in July, Brewer's Yard is an expansive part-shaded and part-sheltered beer garden with modern benches, handmade bespoke fixed seating, colourful planters, and attractive decking areas. Reimagined from a former car park area, Brewer's Yard can now accommodate 100+ people and is one of the largest beer gardens in York.
For more tranquil al fresco drinks, perhaps one of York's best-kept secrets is the Brew York riverside beer garden, accessible only through the very back of the Tap Room. This part-covered, attractive seating area provides a most intimate space for around 25 people which overlooks the River Foss.
A Brew York shop also sits at the main entrance on the ground floor, which sells a wide selection of core range and latest new release beers from Brew York, plus branded merchandise.
The ground floor at Walmgate is an expansive space, packed with fresh beers, immersive brewery experiences, and a choice of comfortable seating areas to suit a wide range of tastes, ages, preferences and accessibility needs.
On the first floor at Walmgate is the Brew York Beer Hall - an impressive Bavarian-style space with 40 beer taps. The Beer Hall boasts the largest and widest selection of beers, lagers and ciders in York and the surrounding area. Yuzu Street Food - an independent and local business - sling their epic Asian-inspired dishes out of our built-in open kitchen, which is nestled within the Beer Hall. Visitors can order food from their table wherever they are at the Walmgate venue, and it will be delivered to their seat. The Yuzu partnership is intentional, as the Asian-fusion food pair really well with Brew York's wide range of beer styles, and is the perfect food to enjoy alongside a paddle of four different beers to sample various pairings and have a bit of fun with flavour.
Newly renovated and opened in November 2022, the Tasting Room sits overlooking the Beer Hall and is a dedicated event and private function space. With comfortable, handmade seating, exposed brick walls, a floor-to-ceiling mirror wall, and carefully chosen soft furnishings, this room hosts around 25 and is a sought-after space for smaller groups.