Medieval & Magical Treasure Trail Prize Draw Winners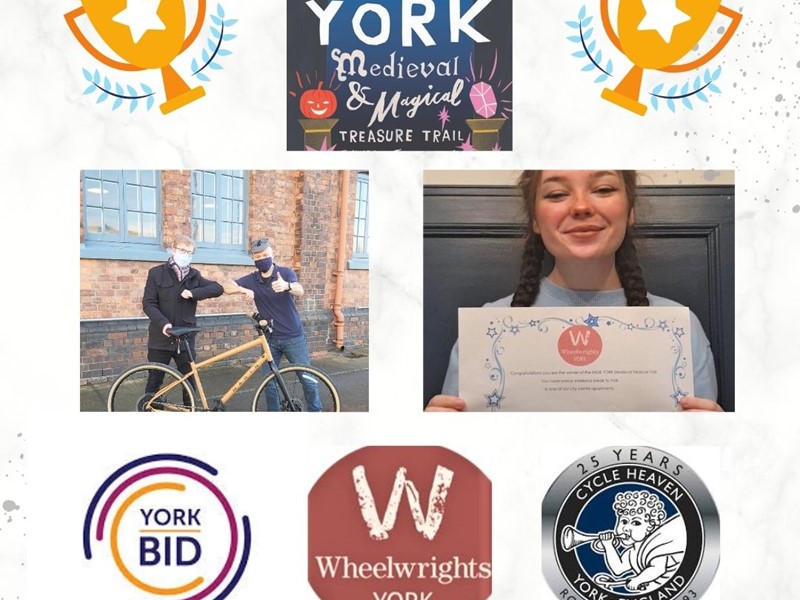 Indie York held their Medieval & Magical Treasure Trail over October Half-Term where participants were invited to pick up a trail map and find clues in independent business windows and York attractions. The trail was very popular with adults and children, local residents, students and visitors to the city. We asked the General Public to submit their completed trail answers to be entered into a Grand Prize Draw. We had prizes from Cycle Heaven who donated a £500 bicycle, Wheelwrights Holiday Cottages who donated a weekend stay at one of their beautiful properties in York and The York BID donated nine £50 York Gift Cards. We have now held the draw and can announce the following:⠀
⠀
📣 The winner of the Cycle Heave bicycle was Mike Hobbs from York⠀
📣 The Wheelwrights weekend break was won by Eve Cole from Sunderland ⠀
📣 The winners of the £50 Gift Cards are as follows: Keir Brown, Trevor Rudd, Samual Blyth, Charlie McClelland, Guilherme Meneguzzi, Keith Wright, Nathalie Larsen, Elizabeth Wallman and Guy Harland. ⠀
⠀
✨ We would like to say thank-you to all the people who followed the trail and a particularly big thank-you to The York BID, Cycle Heaven  and Wheelwrights for their very generous donations for the event. For more information about future trails please follow Indie York on Facebook @indieyorkmap and Instagram @indieyork.