Five-star family fun on the most MAGICAL ticket in town!
Tour times and days vary, visit www.wizardwalkofyork.com for up-to-date availability
WINNER Best Tour of York 2023 – Little Vikings Awards
Experience of the Year FINALIST - Visit York Awards (results March 2023)
Magic, comedy and dash of York's history, on a tour that wizard fans are going Potty for! Book at www.wizardwalkofyork.com
"Brilliant, fun and engaging. Our children said this was the highlight of their week in York!" – A. Tolen
Join The Wizard of York on a quest to find magical creatures, as you wand-er the enchanting alleys and magical snickleways of the city. Ideal for children but suitable for the whole family, and a great alternative to a ghost walk. No spooky ghosts, no scary stories...just five-star family fun!
Public tours run regularly, and private bookings are available for birthdays, school groups, cubs, brownies and more. Send an owl of enquiry or contact via www.wizardwalkofyork.com
"Highly recommended, we had a WAND-erful time!" – York Insider
"The perfect way to spend some family time in York!" – North Leeds Mumbler
"A must do activity for any wizard fan!" – Families North Yorkshire Magazine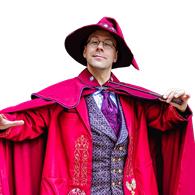 "I'm excited to bring 10 years of magical experience to the streets of this enchanting city, and to create lasting memories for families from all over the world. Prepare to be spellbound! "