There's not a thing here they haven't thought of for cats and cat-lovers
Mon – Sat: 10.00 – 17.00
Sun: 11.00 – 17.00
If you're a cat lover then you'll love The Cat Gallery, the UK's only cat themed store that offers a shop, internet and a mail order service.
Set up by accountants Peter & Alison in 2001, The Cat Gallery has long been a part of York's eclectic retail offering. Long standing customer favourites include Catopoly - yes, it's Monopoly with a feline theme!, Cat Dreams, a 90 minute "small animal action" DVD for your couch potato cat, not forgetting the badge of honour for all self-respecting cat ladies, the "Crazy Cat Lady" mug.
The Cat Gallery also prints and distributes the "York Cat Trail" - a free, self-guided tour around central York, spotting the cat statues that adorn certain buildings, each with its own story.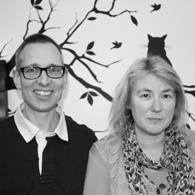 "The big smiles and positive feedback we get from customers are a daily reminder of why our crazy cat themed business is so much more fun than being an Accountant!"