Corner Grill House Restaurant
Real food, Real Flavour, Independent, Hidden gem, Cosy Restaurant
Monday - Sunday 16:30 - 22:00
Welcome to the most popular steak restaurant in York.
At Corner Grill House we know you want to experience a life changing steak in an environment that's stylish and cosy.
That's why we are dedicated in sourcing only the very best premium cuts of meat, guaranteed to make your dining experience with us one you will remember forever!
The ethos of our restaurant is simple: use the very best seasonal and locally sourced ingredients that are on our doorstep and conjures the very best of them because Yorkshire has some of the best produce in the world. That's why We only work with suppliers and farmers that are as passionate about growing as We are about cooking.
Awarded by Yorkshire Prestige Awards as a Best Steakhouse 2022 and 2023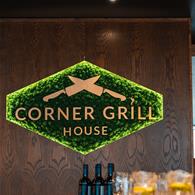 "There are lots of different ways of cooking. But knowing whether something should be flash-fired, grilled or slow- cooked makes all the difference to the flavour and texture of the food, and that's even before you've paired it with other ingredients to create a dish."