New Exhibitions at Pyramid Gallery | Mychael Barratt & Trevor Price
Pyramid Gallery are celebrating 40 fabulous years this 2022 and have an exciting programme of exhibitions taking place throughout the year. The newest of these opens this Saturday 16th July and you are all invited!
SUMMER SHOW at Pyramid Gallery | 16th July - 6th September 2022.
Join Mychael Barratt and the Pyramid Gallery team, for the opening of Mychael's exhibition of original prints, 'Beyond Bruegel,' from 12 noon this Saturday. This exhibition includes 3 Bruegel inspired screenprints, plus new screenprints or woodcuts of Wes Anderson's Dog III (Hoover Building), Dungeness (with Derek Jarmen attending his garden outside 'Prospect Cottage' – this print was also hung in the 2022 RA Summer Show) and a new portrait of Van Gogh painting 'Starry Night' wearing his hat with a brimful of candles to illuminate the painting. There is also a new woodcut of Damien Hirst's Dog. The smaller etching version of that one sold out very quickly.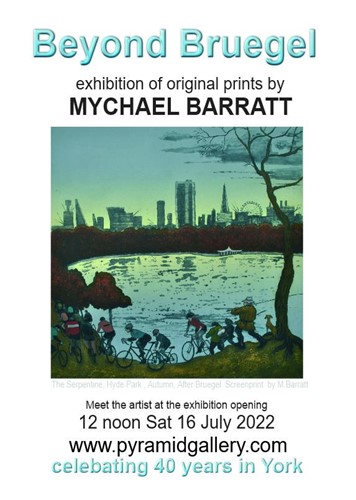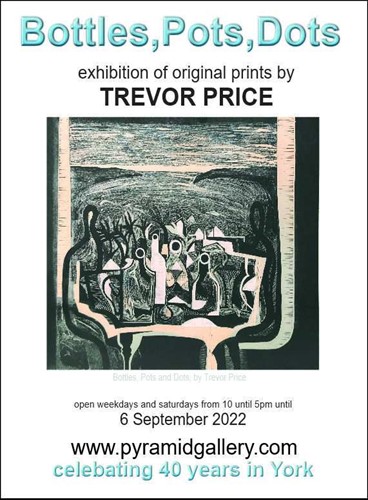 As part of this SUMMER SHOW another exhibition will run alongside Mychael's. Bottles, Pots, Dots: an exhibition of original prints by Trevor Price.
Trevor Price has been a favourite of Pyramid Gallery since 1994 when he was printmaking assistant to Brenda Hartill. Soon after that, Trevor moved into a studio in 'The Clink' with Mychael Barratt. They have shared studios ever since and both have constantly supplied Pyramid Gallery. It seems very appropriate that this joint exhibition marks the 40th anniversary of Pyramid Gallery. We have taken the title for Trevor's exhibition from one of his collagraph prints, which is inspired by the art scene that has been centred around St Ives, where Trevor now lives. He was born not far away and much of his work is informed by St Ives artists such as Barbara Hepworth, Ben Nicholson, Cecil Collins and also Pablo Picasso.
Trevor's recent work has mostly been black and white images of woodlands, water and sea, in highly detailed collagraph prints. This show includes three pieces that are based on Barbara Hepworths studio and garden.
Find out more about these two artists and the other makers that Pyramid Gallery represent here: www.pyramidgallery.com