Keeping it Crafty at FortyFive Vinyl Cafe! Monday 18th July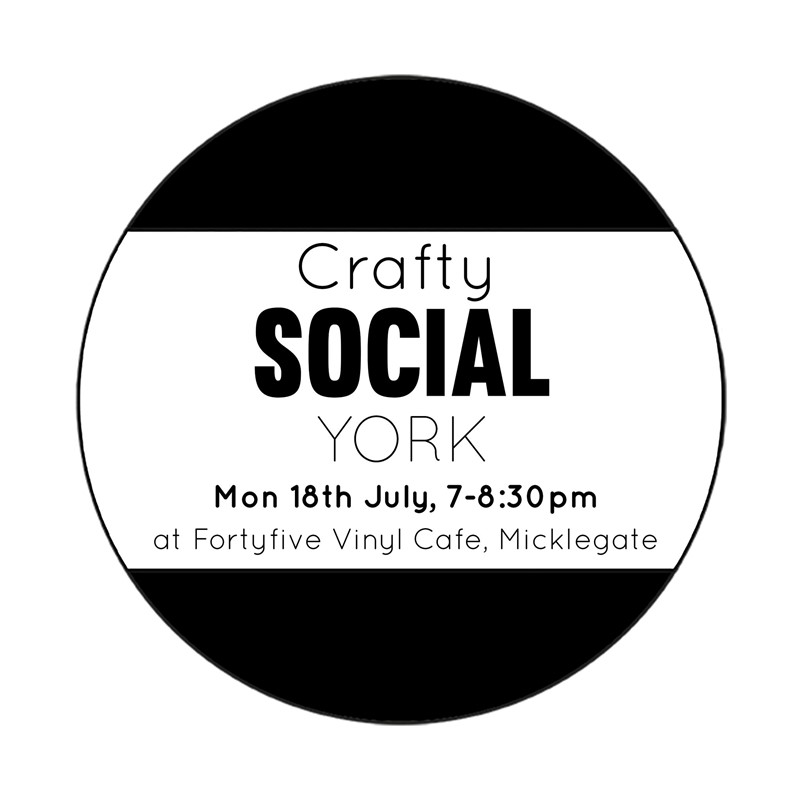 Some of you may remember these Crafty Social events from those heady pre-Covid days. Some of you may be new to them. Either way, we are super excited that the wonderful York artist Mim Robson is resurecting these brilliant crafty evenings at IY member FortyFive Vinyl Cafe! And the first one of the summer is on Monday 18th July at 7pm!
Here's a message from organiser, Mim, with some more info about what to expect. We can't wait!
"Lots has changed for lots of people since our last social in Feb 2020 so we are going to see how we go, but I've missed you all and our lovely socials, so if there's still enough interest, we will continue to keep it crafty monthly!
Things that are the same!:
* We're still at Fortyfive Vinyl Cafe on Micklegate!
* We're still on every third Monday evening of the month!
* Still the same format of there being a craft on each time you can have a go at if you want, and still a nice place to meet or bring nice people. Still nice and crafty basically.
Things that have changed!:
* There are a couple of small changes we have had to make to make bringing it back feasible - one is that we've had to raise the price to £6 - we're keeping the price as low as possible and this is the best we can do!
* We've also got to finish a little earlier, so it runs from 7-8:30pm now rather than 9pm. Still time to go out for a drink after, or get home early for a cuppa chamomile.
For those who are new to Keeping it Crafty Socials... read on! For those who've been before and just want to know what the craft is... scroll to the July Crafty Social bit! x
___________________________________________________________________________
Come along on the third Monday of each month between 7pm and 8.30pm for an evening of have-a-go crafts, a brew and a chat.
Each month we will bring a new craft to learn for a £6, but you are welcome to come along and bring your own art/craft projects instead, or just join for the social.
All ages and abilities very welcome, but children under 16 must be accompanied by an adult unless pre-arranged. You don't have to be an experienced artist or crafter, just come along and get making!
Come with friends or come on your own - you will be made welcome!
For those who haven't been before, Fortyfive Vinyl Cafe is a lovely place on Micklegate near where it meets Rougier Street (would it help if I said it was near Popworld?!) and serves excellent coffee, other hot drinks, alcohol and snacks... with vegan and gluten free options too.
___________________________________________________________________________
JULY CRAFTY SOCIAL DETAILS!
This month the social is on Monday 18th, July 7-8:30pm.
The have a go craft this time is Button Books! These aren't actually a real thing, I just made them up. But they are VERY CHARMING! And easy to make. There will be loads of vintage magazines, old books and maps to snip up and rearrange into tiny button shaped concertina books. Your button books can contain a story, a poem, a comic, or just a collection of snippets or pictures! Come and have a play.
If you don't fancy the button books, you are welcome to join us with your own craft project! Non-crafters are most welcome to just join for the cuppa and company, although we will definitely try to tempt you into getting crafty at some point.
Bring your friends, make new friends, but most of all Keep it Crafty!!!