Indie York Medieval & Magical Treasure Trail Press Release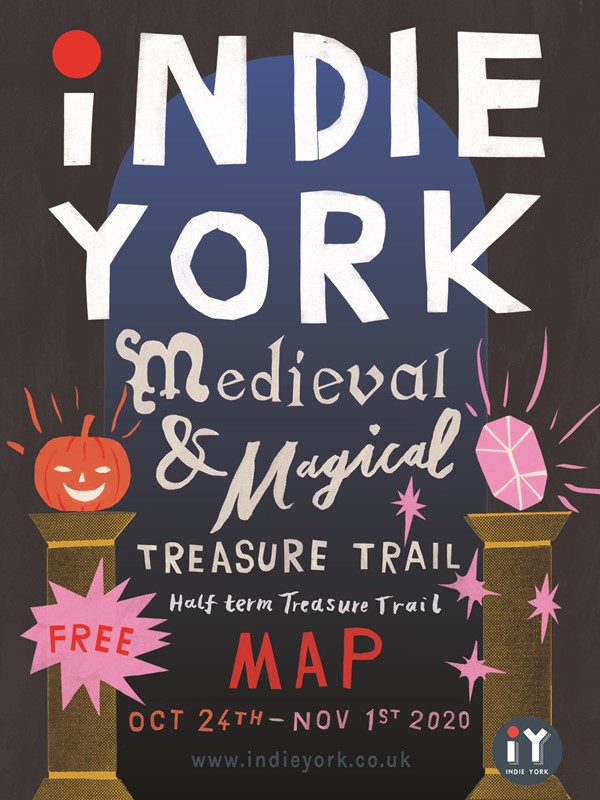 Indie York's Medieval & Magical Treasure Trail
Press Release
When retail and hospitality businesses re opened in 2020 following the Covid19 lockdown in York there was a great deal of apprehension felt by independent businesses about the coming months ahead.  
With much uncertainty and negativity centred around how businesses could attract people back to the high street and yet remain safe, the question on everyone's lips was "How would shops, restaurants and other businesses cope in the months ahead ?" It was agreed by all that these concerns would become even more acute as the days got shorter in the Autumn.  
This problem was very much on the minds of those involved with Indie York which is a not for profit community association and has approximately 200 independent business members in York and which aims to encourage the public to support independent businesses.  
Johnny Hayes Chairman of Indie York said, "How do you attract potentially thousand of local residents and visitors to use our independents in the City Centre and local high streets yet maintaining safe distancing? That was the conundrum, then somebody came up with the bright idea of a number of Treasure Trails around the City. In fact 9 Treasure Trails right across the City.  9 clusters of independents have produced nine treasure trails in the medieval streets and magical corners that make the city famous, along with a ghost hunt which only York can do so well. So the Medieval and Magical theme was decided upon that it is hoped will inspire local families and visitors alike to join in." 
Angus McArthur of York Ghost Merchants added:  
"True communities come together during times of hardship. There's little doubt that this has been a time of hardship on so many levels and there has been a significant impact felt on the shopping streets of our towns and cities. York's independents as part of the tenacious Indie York community are joining together in a series of local clusters to bring something entertaining and interactive for locals and visitors alike during the October half term break." 
Plans are now in place to hold a week long event during the October half term holiday with the Indie York's Medieval & Magical Treasure Trail. Held from Saturday 24th October to Sunday 1st November. With over 100 Indie York member businesses and a number of York tourist attractions are taking part in the trail to promote the city's independent businesses and highlight medieval and historical attractions in the City and local areas.  
"The half term holiday was the ideal time to run these trails. Particularly this year when children will not be able to do their traditional Halloween trick or treat visits to friends and neighbours homes because of Covid19. So we thought our treasure trails might offer a safe alternative for local families and visitors to enjoy an alternative trail." said Johnny Hayes.  
Polly Bennett from the Indie York Steering Committee said "We are delighted to be joined by a number of York's attractions who will be part of the trail including the JORVIK Viking Centre, Barley Hall, Merchant Adventurers' Hall, York's Chocolate Story and The Bar Convent are all taking part in the trail, helping visitors to discover and residents to rediscover the great places there are in York's City centre as well as the wonderful independent businesses there are around the City."    
Sara Amil Smith, Indie York's Administrator said;  
"The event has been put together with the support of City of York Council, Make it York, York Business Improvement District ( York BID) and other sponsors including Bootham School and Redmayne Bentley. We have had amazing donations of prizes for the prize draw. This includes a £500 bike to the winner of the prize draw, A holiday weekend in a superb holiday apartment in Micklegate. Also 9 x £50 York Gift Cards that encourage shoppers to support City based businesses for each of the trails"  
Sara added "We are keen for York residents, local students and visitors to the to get involved. There will be unique clues in windows of participating member and historic attraction in the City. Each cluster will have its own set of clues so you can do as many or as few trails as you like. The clusters are: Acomb, Bishy Road, Central York, Fifth Quarter- Gillygate and Bootham, Fossgate/Walmgate, Goodramgate, Micklegate and the Shambles. The York Ghost Merchants of the Shambles cluster are organising a separate ghost hunt where Little ghosts are hidden for participants to find. There is a separate map available for the Ghost Hunt from all 100 Indie York venues participating. 
Angus McArthur of York Ghost Merchants and an Indie York member said;  
"At the Ghost Merchants we are co-ordinating The Shambles Cluster Ghost Parade, we have handmade 13 Ghosts in the style of medieval woodcuts and hope that many will come to hunt them down in the windows of the participating shops in and around the Shambles. We are auctioning these one of a kind Ghosts off for a local charity called The Island which supports vulnerable and isolated children through mentoring programmes."  
On each of the 9 trails there are clues in each of the windows. But hidden in each of the displays are mystery objects and artworks that need to be identified. These include ghosts, ravens, jesters, knights, herbs and potions, nosegay bunches of flowers to hide the smell of death and decay, drawing and illustrations on magical and medieval themes.   
You can pick up hardcopies of both maps in any of the participating member businesses or attractions or collect one from Visit York Information Centre on Museum Street. Once you have the answers to the clues written on your map, you can email in the answers on a photo if you choose to hello@indieyork.co.uk to be entered into a Grand Prize Draw to win the brilliant range of prizes. Or you can write your answers and send to the indie York website if you prefer.  You will  see all the details of the prizes and other relevant information.  https://www.indieyork.co.uk/trail  
Download Medieval & Magical Map
Sara Amil Smith added. "It's free to take part, it's fun and it celebrates the many wonderful independent businesses and historical highlights in our beautiful city of York for our residents to rediscover and visitors too.  
If you require further information with regard this press release then please contact.  
Johnny Hayes, Chairman Indie York - 07804933690/johnnyhayes@hotmail.co.uk 
Sara Amil Smith, Administrator - 07307 209072 hello@indieyork.co.uk