Indie York Medieval & Magical Treasure Trail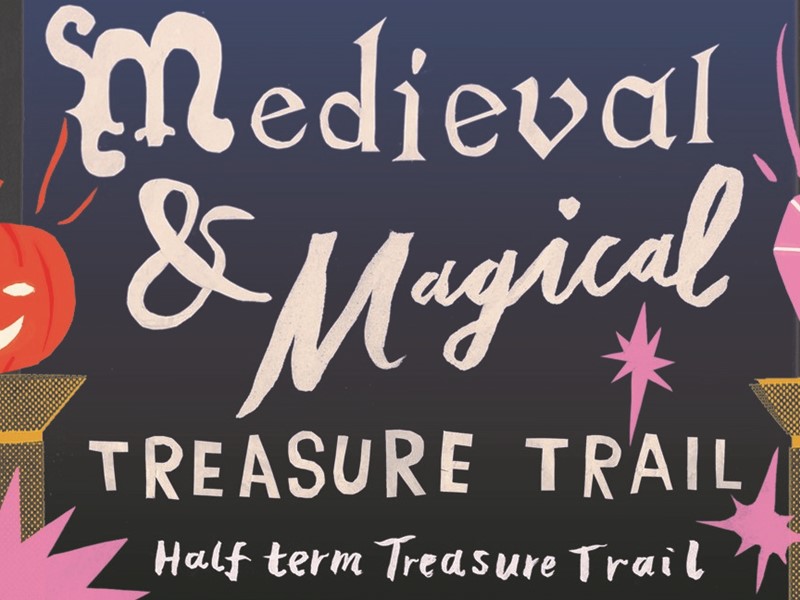 The Indie York Medieval and Magical Treasure Trail & Little York Ghost Hunt 
What is it? -
When retail and hospitality businesses re opened in 2020 following the Covid19 lockdown in York there was a great deal of apprehension felt by independent businesses about the coming months ahead.  
With much uncertainty and negativity centred around how businesses could attract people back to the high street and yet remain safe, the question on everyone's lips was "How would shops, restaurants and other businesses cope in the months ahead?" It was agreed by all that these concerns would become even more acute as the days got shorter in the Autumn. This problem was very much on the minds of those involved with Indie York which is a not-for-profit community association and has approximately 200 independent business members in York and which aims to encourage the public to support independent businesses.  
Johnny Hayes Chairman of Indie York said, "How do you attract potentially thousand of local residents and visitors to use our independents in the City Centre and local high streets yet maintaining safe distancing? That was the conundrum, then somebody came up with the bright idea of a number of Treasure Trails around the City. In fact 9 Treasure Trails right across the City.  9 clusters of independents have produced nine treasure trails in the medieval streets and magical corners that make the city famous, along with a ghost hunt which only York can do so well. So the Medieval and Magical theme was decided upon that it is hoped will inspire local families and visitors alike to join in. It is being held in collaboration with the York Ghost Merchants' Little York Ghost Hunt."   
When it is happening? -
Indie York Treasure Trail & Little York Ghost Hunt is a free, fun event with a Medieval and Magical theme. The trails are being held at October Half-Term between Saturday 24th October - Sunday 1st November 2020.  Explore many of York's historic streets, alleyways, church yards and magical corners where you can discover the many independent businesses that cluster together. There are also some of York's famous attractions taking part in the trail. 
Where can you pick up a map? - 
You can collect a Treasure Trail map and the Little York Ghost Hunt map from any of the 100 participating Indie York member businesses, the Visit York Information Centre, 1 Museum Street, Barley Hall, Bar Convent Museum, Jorvik Centre, Merchant Adventurers' Hall and York's Chocolate Story. You can also download the maps at the bottom of this page.   
Where does the trail go? -
The trail is broken down into 9 individual clusters; you do not have to find all the clues in all of the clusters. You can complete different cluster clues that will be found in our Indie business windows along with an interesting medieval and magical object for you to find (the objects are for little children to find). You can complete as many clusters as you like!
There are 9 clusters in total: Acomb, Bishy Road , Fifth Quarter (Gillygate and Bootham), Fossgate and Walmgate, Goodramgate, Micklegate, The Shambles, Stonegate and Petergate and York Central.
The Shambles cluster is where the Little York Ghost Hunt is based where individually made model ghosts will be hidden for you to search for. You can download the Ghost Map here - 
What is the treasure?! - 
There will be a prize draw which will be made from the correct entries we receive. This will take place in early November and we will inform the winners by email. There are some great prizes to be won including:
A £500 bicycle from Cycle Heaven
A weekend break at one of Wheelwrights York self-catering properties
9 x £50 York Gift Cards provided by The York BID.
How to enter - 
1. Your entry is only valid if you found the clues yourself.
2. One person per entry. If you enter more than once, we will take your last entry.
3. You only need to complete one clusters trail correctly to enter.
4. To enter take a photo of your completed cluster clue form and we will have a online submission form where you can simply upload a picture of your completed entry, the submission form will be coming shortly at: https://www.indieyork.co.uk/trail. Alternatively, you can email your entry in at hello@indieyork.co.uk and tell us which clusters you have completed. Please provide your full name and contact telephone number when entering. 
5. The 11 winners will be chosen (at random and by an impartial person) from the correct entries and informed by the Indie York Team by the 9th November 2020.We will publish the winners names on the Indie York website after the 9th November. 
6. We will also ask if we can use your name and a quote from you for publicity and invite the winners of the two main prizes to a photo opportunity to receive their prizes. Winners of the 9 York Gift Cards will have the Gift Cards sent in the post to their addresses. 
7. We will not use your email address for any other purpose other than contacting you if you have won a prize. 
Data protection - 
The information supplied by entrants to the Prize Draw will only be used for the purpose of the Draw. Please refer to our Website Privacy Policy for more information. 
We would like to emphasise that safe distancing and COVID Safe practices should be observed. Our many Independent businesses will offer you a COVID Safe welcome.