York's very own Viking trading post offering beautiful and fun gifts!
Tue - Sat 10am - 5pm Sun 11am-4pm Closed Mondays
The young Viking Knutti first established his trading post in Jórvík (York) in 1030 A.D. The Knutti Store survives as a fun Viking themed gift shop that offers high quality products that depict the cartoon character of Knutti as well as Scandi chocolate and York gifts. The store is a fun and happy place, with surprising and unique products. Many goods are British made.
The greater majority of the products are wholly exclusive to The Knutti Store. Come along and say "Haell ok saell" (Old Norse for Hi!) to owners Anthony and Jonathan!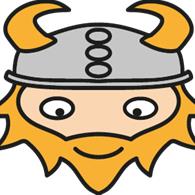 "The Knutti Store is a wonderful place to find something different, and you can have your photo taken with Knutti the Viking himself!"