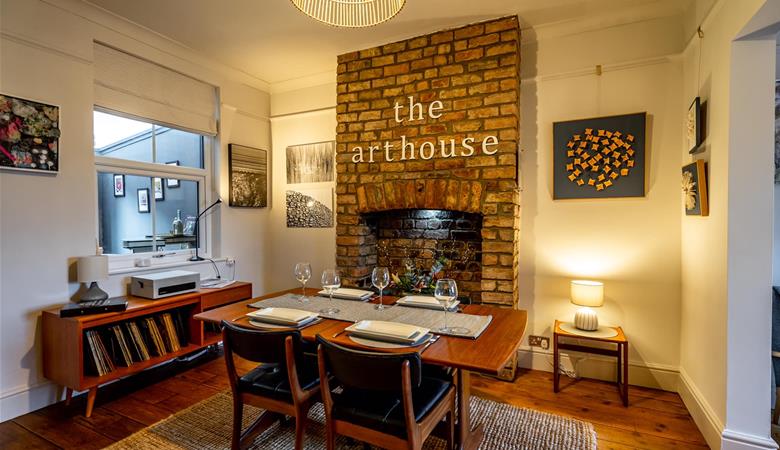 A unique gem of a holiday let showcasing York's modern Artists
The Arthouse Holiday Let opened in December 2021. It was previously my lovely home of 25 years until I undertook a complete refurbishment to convert it into a fabulous place for guests to stay. I wanted to ensure that the house retained its style and character as well as the things that I love. Art, music and vintage furniture. Being an Artist myself, I was excited to be able to showcase other modern Artists from York too. So The Arthouse was born out of that idea. Every 2 months, 2 guest Artists exhibit their work alongside mine in the house, which is also available for guests to buy. I also promote local independent businesses at the house and feature them on the social media platforms for the house.
The house also has lots of vintage furniture that I have restored over the years which is one of its unique features. I'm a massive music fan (thanks to my late Dad) and have always had a record player and vinyl collection. The Arthouse wouldn't be complete without one too. There's also a cocktail lounge with an original 1960's bar which is a great place to serve your fellow guests a drink or to enjoy a morning coffee looking out onto the private garden.
The house is a Victorian terrace located on a quiet street in Holgate, only a short walk into the City. It sleeps up to 4 people (1 king and 1 double) and has the added bonus of a fabulous bathroom with roll top bath (also has a shower). Free parking for 1 car is also available and the railway station is only a short walk away.
I love my house and feel very lucky that I am able to provide a lovely place for guests to enjoy as well as being able to promote indie businesses and Artists. The Arthouse is available to book via York based company 'York Stays' who deal with the management side of things whilst I am in charge of cleaning and undertaking the changeovers. I am able to ensure that the house is perfect when guests arrive and I can leave them treats too.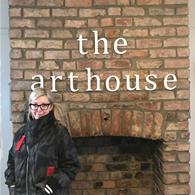 "The Arthouse is an amazing place really...its evolved from being my very happy home of 25 years into my business, a fab place for guests to stay AND a place to promote fellow Artists and indie businesses. I have so much love for the place and also a lot of happy memories...its a house that keeps on giving. "