Appleton's is a well-established traditional pork butcher and pie maker selling freshly baked pies and a wide range of quality meat.
Monday to Friday 8am to 5pm Saturday 8am to 4pm
Appleton's is a specialist pork butcher, hence the stained glass pig in our York shop window. The firm dates back to 1867 when 19-year-old Thomas Appleton began working for Smithson's butchers in Ripon's Kirkgate. The business has changed hands several times since then – and moved to the town's Market Square – but for generations it has been renowned for its handmade pork pies. It's said that Prince Charles is particularly partial to them.
"It's our individual pork pies that we're most famous for," Owner Anthony Sterne says. "They're made to a traditional recipe that has remained unchanged for many years. They simply fly out the door, still warm from the oven, and freshness is key to what makes us special. The pies are made in Ripon and every morning they are delivered to our other shops in tins, in raw pastry, to be baked on the premises."
"The same goes for our sausage rolls and our breakfast rolls, which are sausage rolls with oven-dried tomatoes. Also our Scotch eggs, which we cook fresh daily. They're made with free range eggs and our own sausage meat, deep-fried to create a lovely crisp coating."
"We also roast our own hams every day. Customers love the fact that we slice them nice and thick – it's proper, old-fashioned ham. In summer we sell up to 120 whole hams a week."
For the last decade Appleton's has been owned and run by Anthony and Isabel Sterne, who are determined to build on Appleton's longstanding success without losing sight of the traditional values that have made it such a favourite.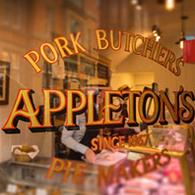 "Customer service is very important to us, so we make a point of employing really good people, and we send mystery shoppers round to all our shops to ask awkward questions and make sure our staff are getting things right. Nowadays customers, especially young people, are increasingly appreciative of good counter service and expert advice. In the wake of the horse meat scandal they know they can trust a traditional butcher in a way that they might not trust a big multiple retailer."