Pizza made the authentic Sicilian way
Typically eaten as Sicilian street food, pizzolo is a flatbread filled with all manner of delicious ingredients – Antonio Curiale's offering comprises Etna, made with ingredients you'd find in an Italian kitchen like anchovies, sun-dried tomatoes, olives, onions, chilli and oregano, and his personal favourite, the Parmigiana with aubergine, pesto, tomato and mozzarella.
A firm believer in making everything from scratch, Sicilian-native Antonio came to York having worked in pizzerias in Italy. If you like what you've tried, you can even hire him to host a pizza party for events and corporate functions, when he can also tap into his repertoire of other Italian specialities and play live music for you with his folk and jazz bands Ramblin' Times or Melthem to top it off.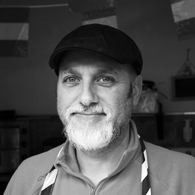 "I want to share my Sicilian food heritage, and our way of making pizza dough is to use white strong flour, semolina and rye flour mixed with extra virgin oil, salt and yeast. I love the taste and texture that the rye gives to the dough"