Where else can you enjoy a coffee in a medieval tower?
Mon – Fri: 7.00 – 17.00
Sat: 8.00 – 18.00
Sun: 9.00 – 17.00
It was during her days serving coffee from her smart car (equipped with a coffee machine) to punters and office workers in and around town that owner Nicola found it could get wet and miserable at times. When she saw the tower in Lendal was vacant, she made it her mission to open a coffee shop there.
There are so many wonderful things about Perky Peacock: the famous handmade toasted cinnamon and raisin bagels, the blends from Origin Coffee Roasters, the special way the barista-trained staff steam the milk, and the chunky brie and bacon sourdough sandwich toasted with onion marmalade. You'll forgive the fact that there's no toilet (due to the fact that it's housed in an ancient tower!), because the coffee is truly top drawer.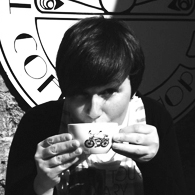 "We have great food, and we have teas but coffee is our interest and therefore we put a lot of time into it."