The Hairy Fig is a speciality food shop selling fine fodder, locally sourced quality foods as well as the very best Spanish, Italian, French, Mexican foods
The Hairy Fig opened in 2008 on Fossgate next to the ancient Merchant Adventurers Hall. It can only be described as a truly beautiful food shop and café. The delicatessen at the front is beautifully set out with stock from floor to ceiling with quality produce from York, Yorkshire and Europe. These products include a wide range of quaility and aged balsamics, olive and other speciality oils, over 40 quality loose teas, fresh coffee beans and an impressive range of amazing chocolates. With lovely fresh bread pies, sausage rolls and a lovely well stocked deli counter.
The cosy cafe at the rear cooks lovely fresh food daily.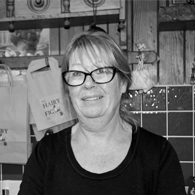 "In 2015 the Hairy Fig was badly flooded but is now returning to its former glory. A place for the unusual but always good food."