Café, hub and arts space for all users in the community
Mary Passeri, who used to run an art space nearby, and Jo Millner, a café owner, have joined forces to set out a dedicated space for anyone in the area, regardless of their age, background and health needs to simply use how they wish. It's amazing how many activities they can accommodate at the two-storey café and community kitchen, and regular events incorporate a pay-as-you-feel-café, drink and draw, which is run by a professional artist, and youth cafés.
Added to that, they also work with organisations such as SNAPPY, NCT groups and Tesco, and allotment holders, the last two of which donate food for the free food bank. This place is ultimately about providing somewhere for kids and the socially isolated to go and get involved as much as they like, or even just to sit quietly in a warm, safe and dry place.
A cause entirely funded by the café, all the income is turned back into the facilities and provisions which they work hard to keep available to anyone who needs them.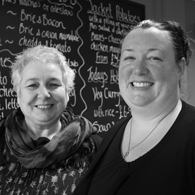 "If you sit in our upstairs window for a little bit it's a while upsetting because you see the waves of people and there's a lot of sadness and poverty out there so we're trying to create some happiness. It's lovely to see the friendship groups formed here still walking up and down the street."